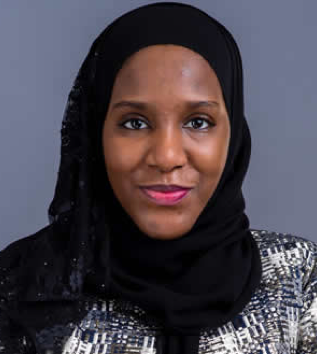 Group Executive Director, Commercial Operations
Halima Aliko-Dangote is the Group Executive Director Commercial of Dangote Industries Limited (Dangote Group). She was formerly and an Executive Director, Sales, and Marketing, Dangote Flour Mills Plc (DFM), a one-time subsidiary of Dangote Group. The Group currently has a presence in 17 African countries and is a market leader on the continent. She is also a Trustee of the Aliko Dangote Foundation and Board President of the Africa Center.
Halima Aliko-Dangote is a graduate of the American Intercontinental University, London, United Kingdom, and Webster Business School, in the UK where she obtained an MBA. She has attended a number of high profile leadership development programs including, the Programme for Leadership Development (PLD) at the Harvard Business School, Executive Development Programme at the Kellogg School of Management and Finance and Accounting for the Non-Financial Executive, Columbia Business School.
Halima Aliko-Dangote joined DIL in 2008 and served as Special Assistant to the President & Chief Executive, with a wide span of responsibilities including providing technical support and advising on strategy and management decisions. As an Executive Director of DIL, she is responsible for enhancing the performance of DIL's subsidiaries by ensuring shared services across companies; supporting capital raising initiatives; and putting in place, Group-wide human resources and administration policies and systems. She is also responsible for new business development and project management, working closely with the President and other members of the Executive Team to develop geographic and sectoral expansion plans for the Group. She currently serves as a member of the project management team that is overseeing the development and financing of the Group's newest businesses including a $9 billion refinery and a $1.5 billion fertilizer plant, both in Nigeria.
Previously, she served as an Executive Director of NASCON, a DIL subsidiary with revenues of $82 million and a net income of $17 million. She continues to serve as a Non-Executive Director of NASCON. She started her career as a Business Analyst with KPMG Professional Services in Lagos, Nigeria.
Halima Aliko-Dangote is spearheading the expansion drive of DIL, which is poised to become a Fortune 100 Company within the next few years.
Halima Dangote Net Worth And Biography In 2021 – NaijaDailys
Halima Dangote is among the most popular Businesswomen in Nigeria. She is the daughter of Aliko Dangote, one of the richest men in Nigeria and Africa.
In this post, I will be sharing with you some interesting information about Halima Dangote Net Worth And Biography In 2021.
Halima Dangote Profile
Name: Halima Dangote
Age: About 40 years old
State of Origin: Kano State
Occupation: Businesswoman, Executive Director, Philanthropist
Marital Status: Married
Religion: Muslim
Tribe: Hausa
Nationality: Nigeria
Net Worth: 500 Million Naira
Halima Dangote Biography
Halima Dangote is a Businesswoman, Philanthropist, and the Executive Director of Dangote Group In Nigeria.
She was born in Kano State as the second daughter in her family. Halima Dangote did her primary and secondary education in Nigeria before proceeding overseas to continue her schooling.
Halima started her tertiary education at the American International University, London In the UK where she attained a Bachelor's Degree in Marketing.
After getting her Bachelor's Degree, She furthered to Webster Business School still in the UK for her Master's Degree In Business Administration.
Upon the completion of her education, Halima got a job to operate as a Business Analyst with a company Called KPMG.
In 2008, she made her way into Dangote Industrial Limited and in 2019 Halima was appointed as the Group Executive Director of Dangote Group Limited.
During her time as the executive director, Halima changes a lot in her father's company, she transformed the company's income from loss to profit within a short time in the business.
The company also smashed the Guinness World Records for the World's Largest Puff-Puff pyramid under the care of Halima.
Currently, She is now a part of the committee of executives and also among the trustee of Her father's organization, the Aliko Dangote Foundation.
Halima met her lovely husband, Suleiman Sani Bello while studying at the UK University. They finally got married in August 2008 and their marriage has been blessed with two adorable children.
Halima Dangote Net Worth
The net worth of Halima Dangote was estimated to be worth 500 million naira as of 2021. She is one of the most Successfully Businesswoman in Nigeria.
Frequently Asked Questions About Halima Dangote
Is Halima Dangote Married?
Yes, she is married to Suleiman Sani Bello
Who is Halima Dangote?
Halima Dangote is the daughter of Aliko Dangote, she is a renowned Businesswoman in Nigeria
Halima Dangote Phone Number
The phone number of Halima Dangote is presently now available as of now
Drop your comments below for Halima Dangote. Share with friends